Modern designed steel structure warehouse adopt space frame structure as main frame, space frame structure is strong because of the inherent rigidity of the triangle flexing loads (bending moments) are transmitted as tension and compression loads along the length of each strut. Space frame structure is suitable to be used span large areas with few interior supports such as bus station, exhibition hall, stadium, coal storage, cement storage, etc,
Project name

Large Span Prefab Strong Pre Engineering Steel Structure Building

Structure type

Light Steel

Design standard

AISI ASTM BS DIN GB JIS NSCP

Dimensions

Customized

Cladding material

Galvanized purlin, Color steel sheet, Fittings, etc

Features

1. Stable and Aesthetic

2. Structure is durable for 50 years

3. Fast and easy to install

4. Extensive Applications: Storage, Warehouse, Exhibition Hall,

Terminal Building, Stadium, Theater, Special-shaped Buildings, etc

5. High anti-rust performance

6. Flexible composition: Doors and Day-lighting roof could be installed at any

position
Production Workshop: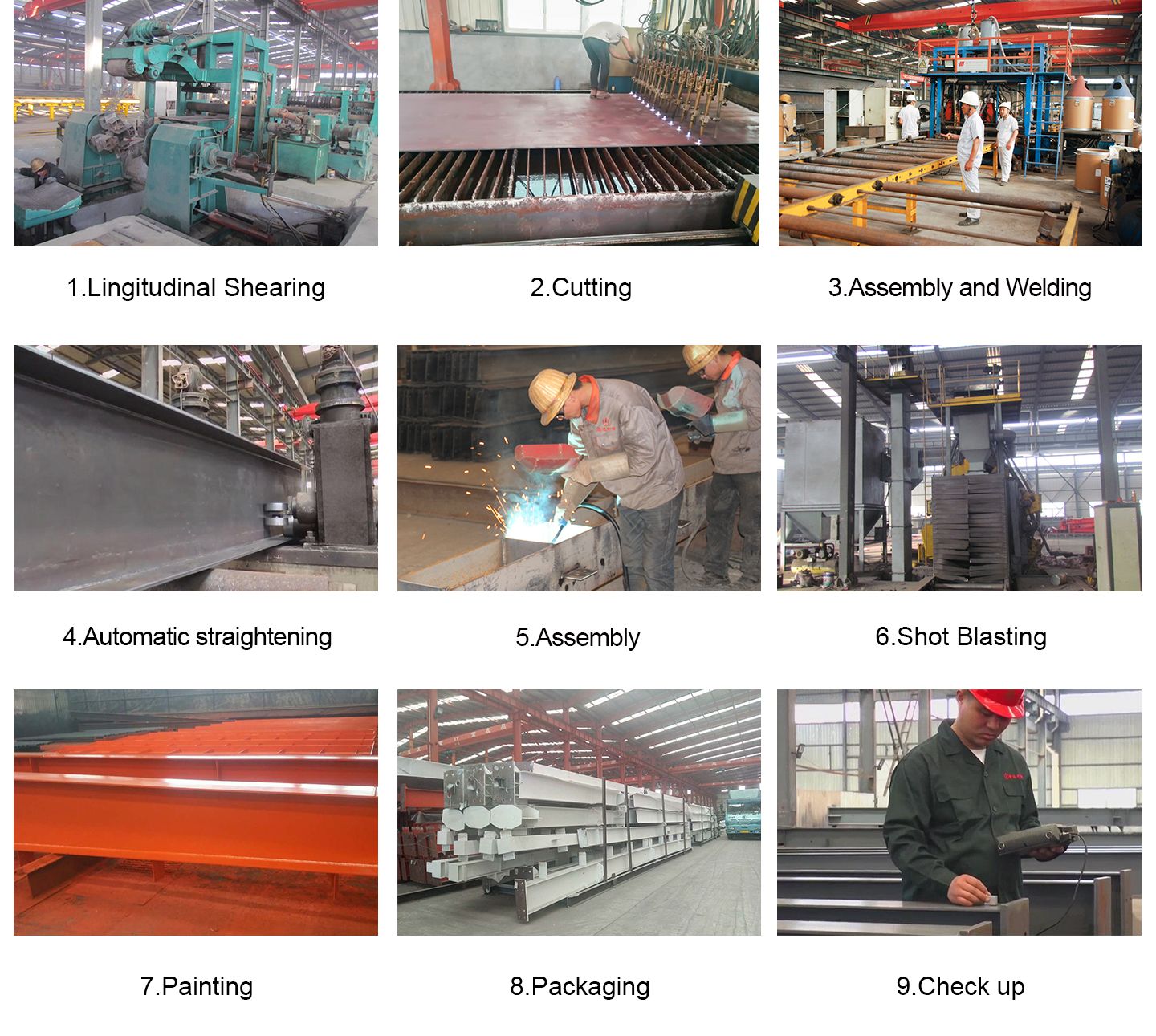 Main Structure
(Steel tube truss system)we adopt hot-dip galvanizing C section or steel tube truss beam to reduce self-weight of design load and dosage of the steel. At the same time, hot-dip galvanized can widely improve anti-corrosion of the steel. (The construction cycle of the steel structure work is short, which reduces the cost of the project effectively. The steel structure has strong shock resistance and can improve the comprehensive anti-seismic property of the whole house).

Substructure(Cold-formed thin-walled steel)
Roof purlin uses the hot-dip galvanized Z or C section. The way to continuous lap makes the steel frame as whole. Roof purlin uses the hot-dip galvanized C section steel. All components adopt bolted connection, no welding, which makes the structure overall appearance smooth.
Design of Exhibition Hall:
We can provide the most professional service according the specific requirement of the customer.
Pre-Sale Service

·Consultant service (Answering client's questions)

·Primary design plan (Free)

·Assisting client to choose suitable construction plan

·Price calculation

·Business&technology discussion

Sale Service

·Submission of support reaction data for foundation

·submission of construction drawing

·Providing requiremrnts for embedding

·Construction Manual

·Fabrication & Packing

·Statistical table of material

·Delivery

·Other requirements by Clients

After-Sale Service

·Service of installation Supervision

·Instruction for using after installation completed
Technicians and Engineers
Components of space frame will be tested by National Space Frame and Steel Structures Quality Supervision and Inspection Center.
The related test reports will be submitted to you with shipment.
For detailed information, pls contact with us, we can provide you the most professional solutions to your requirement.